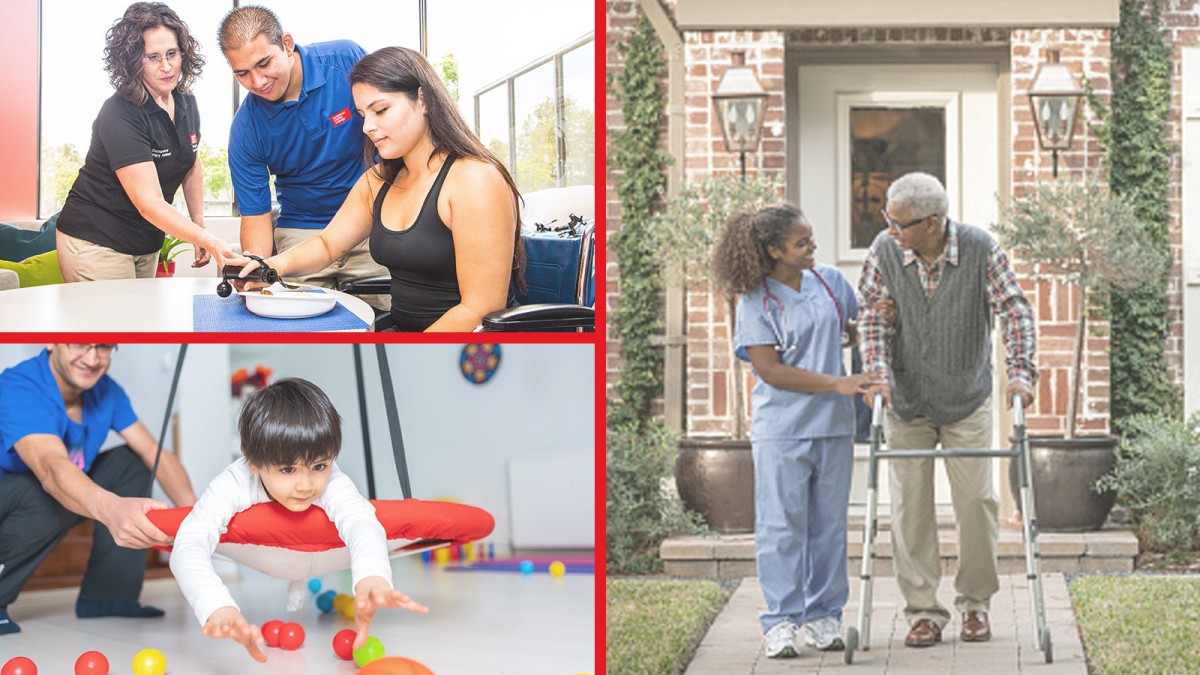 Occupational therapy assistants (OTAs) play an important role in helping individuals live happy and fulfilling lives. The field of occupational therapy is focused on helping individuals develop, regain, improve and maintain the skills they need to perform meaningful activities in their everyday lives.
These may include activities such as feeding, dressing and bathing themselves; grasping for objects; writing and more. OTAs work directly with clients of all ages and are integral members of the occupational therapy care team. Check out the following information to better understand this role and to explore a day in the life of an occupational therapy assistant.
What is an occupational therapy assistant?
An occupational therapy assistant is a healthcare professional who provides assistance to and works under the supervision of an occupational therapist. The job of an occupational therapy assistant is to help OTs provide occupational therapy treatments and procedures, which help clients learn how to become self-sufficient in important everyday activities, whether that is at home, school, work or in the community.
What do occupational therapy assistants do?
OTAs do everything from helping OTs develop therapy plans to carrying out therapy activities with clients and documenting their progress.
Here is a more comprehensive list of occupational therapy assistant duties in California:
Assessing the capacities and daily living skills of clients with physical, developmental or emotional disabilities
Choosing therapy activities that align with clients' needs and capabilities
Implementing treatment plans that help clients learn how to function independently
Helping patients carry our therapeutic tasks, such as practicing dressing or grooming themselves, and providing encouragement along the way
Teaching patients and their families how to use adaptive equipment
Observing and recording clients' progress
Communicating and coordinating with the clients' other healthcare providers
Maintaining a positive attitude toward clients
Occupational therapy activities commonly include self-care activities, developmental exercises, multi-sensory stimulation and sensory integrative and perceptual motor experiences. For children, this could look like putting together a puzzle, playing with toys or putting on their socks and shoes. For adults, this could look like writing letters, folding clothes or making origami.
What kind of knowledge and skills do OTAs use on a day-to-day basis?
To be effective in their jobs, occupational therapy assistants need to have the following knowledge and skill sets.
Knowledge of:
Occupational therapy concepts and scope, and how OT relates to other healthcare fields
Recognized methods for applying occupational therapy techniques
Human anatomy and physiology
Human growth and development
Psychosocial and pathophysiological conditions caused by disease or injury
Professional ethics and code of conduct for the field of OT
Source: California Department of Human Resources
Skills:
Active listening
Communication
Relationship-building
Social perceptiveness
Judgment and decision-making
Ability to instruct others
Service orientation
Time management
Intraprofessional collaboration
Reading comprehension and writing
Sources: California Employment Development Department Occupation Profile, California Department of Human Resources
How physical is the job of an occupational therapy assistant?
The job of an occupational therapist is highly physical. OTAs are on their feet a lot, setting up equipment as well as leaning down, crouching and kneeling as they aid clients with exercises. They also sometimes need to be able to lift clients.
What types of clients do OTAs work with?
Occupational therapy assistants can work with clients of all ages, from babies and children who have developmental delays to adults who are recovering from injuries to elderly clients who are suffering from debilitating conditions.
Anyone who needs to learn or regain skills for performing everyday life skills, such as feeding or dressing themselves, can benefit from occupational therapy.
Where do occupational therapy assistants work?
OTAs work in various types of healthcare facilities, though they may also work in clients' homes.
Below is a list of common employers of occupational therapy assistants:
Primary care offices
Offices of healthcare practitioners (such as occupational, physical and speechtherapists)
Nursing care facilities
Home healthcare services
General medical and surgical hospitals
Individual and family care services
Educational services (i.e., schools)
Community settings like shelters and free clinics
Sources: California Employment Development Department Occupation Profile, U.S. Bureau of Labor Statistics, American Occupational Therapy Association
What do OTA work schedules look like?
Occupational therapy assistants tend to work full-time hours, which may include evening and weekend hours in order to meet clients' scheduling needs. It is not customary for OTA roles to require graveyard shifts, which can be a benefit for those who prefer more traditional work schedules.
Pursuing a Career as an Occupational Therapy Assistant in Southern California
If a career as an occupational therapy assistant sounds like the right fit for you, don't hesitate to get started on your OTA education! At American Career College, you can complete your occupational therapy associate degree in as little as 20 months.
ACC's Occupational Therapy Assistant program is accredited by the Accreditation Council for Occupational Therapy Education (ACOTE) of the American Occupational Therapy Association (AOTA).
Learn more about ACC's Occupational Therapy Assistant program, available at our Orange County campus in Anaheim.