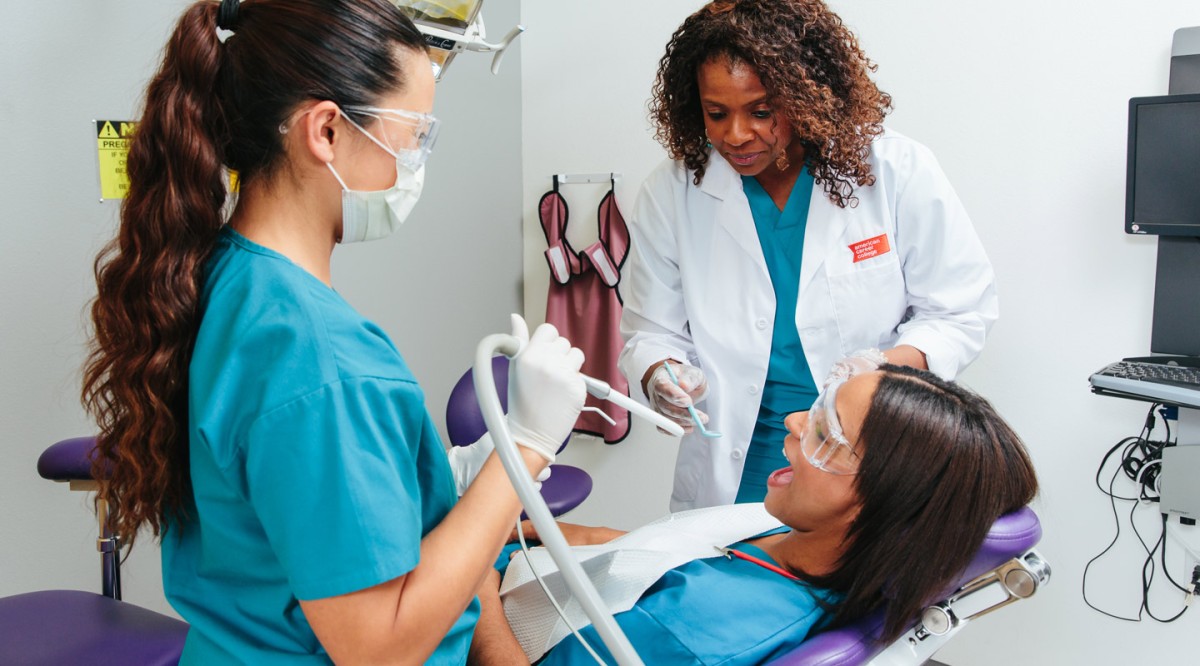 Well then, this blog post is for you! In this post, we will cover the basics of Dental Assisting and what it takes to become successful in the field. We'll discuss topics such as day-to-day duties of a Dental Assistant, educational requirements, and important qualities needed to be successful. If you're ready to learn more about becoming a Dental Assistant, read on!
What Does a Dental Assistant Do?
Dental Assistants help dentists provide quality patient care. They are typically responsible for ensuring patients feel comfortable in the dental chair, preparing the work area and instruments, handing instruments to the dentist during procedures, processing x-rays, coronal polishing, making crowns, and scheduling patient appointments.
Additionally, they may be tasked with instructing patients in proper oral hygiene, drying the patient's mouth using a suction hose, and helping patients with billing and payment.1
How Much Education Do I Need?
If you're interested in becoming a Dental Assistant, most states require you to graduate from an accredited Dental Assistant Training program and pass an exam.1
American Career College's Dental Assisting program is approved by the Dental Board of California and can be completed in as little as 10 months. Through our hands-on training program, you will learn about the procedures and techniques you will use in your career.
What Are the Certification Requirements?
Some states require Dental Assistants to be licensed, registered, or certified for entry or advancement to work in radiography, infection control, or other specialties. For specific requirements, contact your state's Board of Dental Examiners.1
As a student in ACC's Dental Assisting program, you'll learn everything you need to sit for the RDA practical and written examinations.
What Are the Job Opportunities?
Dental Assistants can choose to work in government and the private sector. They can be found in general dental practices, specialty offices, hospitals, schools, and other healthcare settings.
There are job opportunities for dental assistants in many areas of healthcare. With proper training and certification, Dental Assistants can find rewarding and fulfilling careers.1
How Do I Pick the Right School?
Choosing the right Dental Assistant school can be tough. With so many programs to pick from, how do you know which one is right for you?
With over 45 years of experience as a leader in healthcare education, you can trust ACC to help you reach your goals of becoming a Dental Assistant! You'll train in our technologically advanced campus using the same medical equipment you'll come across on the job. Learn under the guidance of our dedicated and professional faculty who are with you at every step of the way.
The Dental Assistant training program is taught in a blended format, meaning you'll spend two days a week on campus, learning hands-on in labs, and complete the rest of your coursework online. This frees you up to take care of life's other obligations. During your training, you'll complete a 180-hour externship—which gives you the chance to demonstrate and reinforce the knowledge and skills you've learned throughout the training process.
Our professional faculty is dedicated to helping you every step of the way! As a student at ACC, you'll get career services for life. Also, financial aid and scholarships are available for those who qualify. With three convenient Southern California campus locations to serve you, American Career College is the clear choice to train for a rewarding career as a Dental Assistant!
1https://labormarketinfo.edd.ca.gov/cgi/databrowsing/occExplorerQSDetails.asp?searchCriteria=Dental+Assistant+&careerID=&menuChoice=&geogArea=0604000075&soccode=319091&search=Explore+Occupation
Financial aid and scholarships available for those who qualify.
ACC provides career guidance and assistance but cannot guarantee employment.
The Los Angeles, Anaheim, and Ontario campuses are institutionally accredited by the Accrediting Bureau of Health Education Schools (ABHES). ABHES 6116 Executive Blvd. Suite 730, North Bethesda, MD 20852; Phone (301) 291-7550 / email: Info@abhes.org / www.abhes.org
The Dental Assisting programs in Los Angeles, Anaheim, and Ontario are approved by the Dental Board of California. Dental Board of California 2005 Evergreen Street, Suite 1550, Sacramento, CA 95815; Phone (916) 263-2300 / Fax (916) 263-2140 / www.dbc.ca.gov