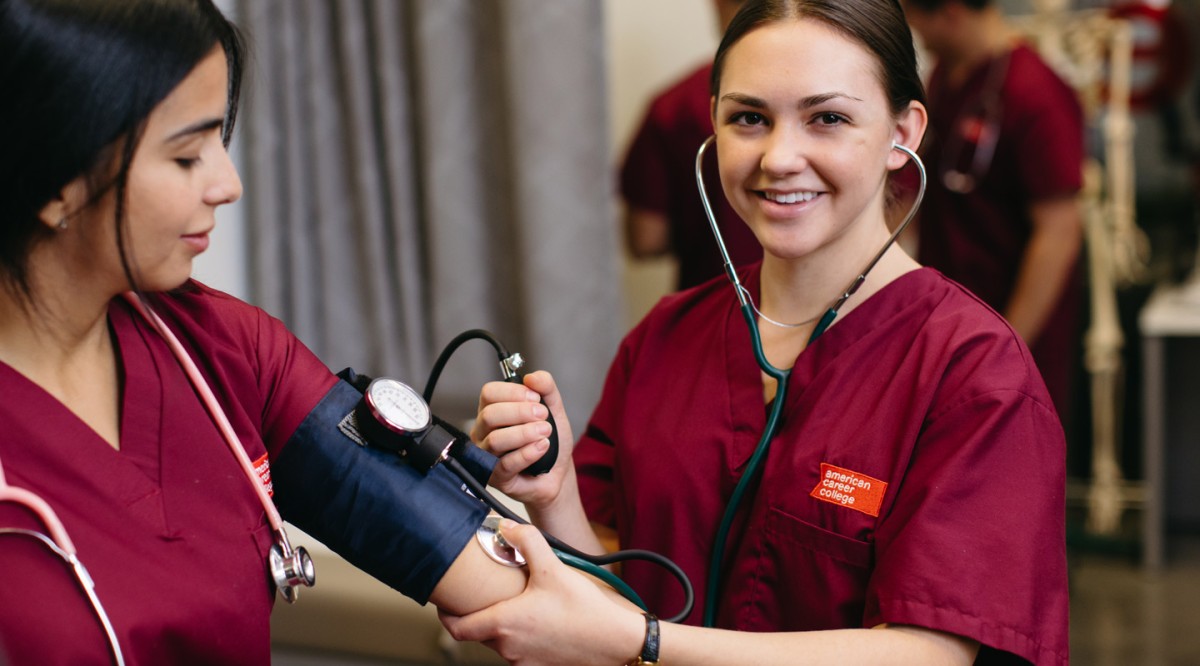 Can you see yourself working as a Medical Assistant? If so, you'll need the proper training to be successful. In this blog post, we'll discuss the necessary steps and requirements you'll need to take to become a Medical Assistant.
Why Enroll in a Medical Assistant Program?
Medical assisting is a great career choice for you if you're looking for a rewarding and exciting career in healthcare.
Medical Assistants can be found in a variety of settings, including hospitals, physician's offices, outpatient clinics, long-term care facilities and more. They perform clinical and administrative tasks, such as collecting and preparing lab specimens, performing basic laboratory tests, administering medication and injections, taking patient histories, documenting patient information and more.1
What Will I Learn in a Medical Assistant Program?
At American Career College, our accredited Medical Assistant program will help you gain the critical knowledge you need to be a vital part of the healthcare team. You'll receive hands-on training modeled after real-life situations, using the same medical equipment encountered on the job. We'll teach you how to effectively assist doctors with various procedures and tasks including:
Greeting patients
Running routine lab tests including drawing blood
Taking blood pressure and temperatures
Preparing treatment rooms for patient examinations
Performing EKGs
In addition to the hands-on skills you'll learn in our technologically advanced labs, our comprehensive Medical Assistant program will teach you the administrative side of healthcare, such as:
Insurance coding and reimbursement systems
HIPAA compliance
Medical billing
You'll also learn how to effectively manage the front office of a medical practice or clinic. These skills will be necessary for success in a Medical Assistant role.1
The final component of the course curriculum is a 200-hour externship that will help prepare you for the diverse tasks required in a medical office setting and help you get the experience you need to work with patients, physicians, and other healthcare professionals.
ACC is proud to offer you a 9-month path to complete your Medical Assistant training!
Why Choose American Career College for Your Medical Assistant Training?
With a proven track record of providing quality healthcare education to over 60,000 students, ACC is committed to educating the next generation of healthcare workers. When you enroll in our Medical Assistant program, you'll gain the hands-on experience and real-world skills necessary to succeed in this ever-growing field.
At ACC, you will have the flexibility to choose from weekend class options and enjoy a blended learning format that combines online classes with in-person labs. We'll be with you every step of the way with dedicated and professional faculty guiding you through the program.
When it's time to transition into the working world, you'll have access to career services assistance, such as resume writing and interviewing skills. Every aspect of our program was designed to help prepare you to become a Certified Medical Assistant.
So, if you're looking for how to become a Medical Assistant in a supportive and accredited environment, look no further than American Career College. With our long-standing tradition of excellence and commitment to students, you can rest assured that you're getting the training you need to succeed.
Call 877-832-0790 to begin your journey today!
1https://labormarketinfo.edd.ca.gov/cgi/databrowsing/occExplorerQSDetails.asp?menuchoice=localAreaPro&soccode=319092%20%20%20%20&geogArea=0604000111
Financial aid and scholarships available for those who qualify.
ACC provides career guidance and assistance but cannot guarantee employment.
The Medical Assistant programs at the Los Angeles, Orange County and Ontario campuses are programmatically accredited by the Accrediting Bureau of Health Education Schools (ABHES). ABHES 7777 Leesburg Pike, Suite 314N, Falls Church, VA 22043; Phone (703) 917-9503 / Fax (703) 917-4109 / www.abhes.org.>