Considering applying to nursing school? Congratulations! Nursing is a meaningful profession and fulfilling life's work, full of challenges and rewards. Taking the first steps can be equally exciting and daunting — you have to research schools, compile your application, and prepare for the rigorous education that awaits you.
Part of that preparation is taking the Health Education Systems Incorporated Admission Assessment exam, or the HESI A2. The majority of nursing programs integrate this test into admission requirements.
What's on the HESI A2?
It depends on the program you're applying to, but typically the exam will include a mix of topics chosen to evaluate your readiness for nursing school:
Language (reading and writing skills)
Science (biology, chemistry, anatomy, physics)
Basic math
Learning style
Personality profile
Scoring well on the HESI A2 will help you stand out from other applicants. We're here to help! As you begin to study, keep these six HESI A2 tips and tricks — including a few of our favorite study resources — in your toolbox to make the most of your prep time and set yourself up for success. You can do this!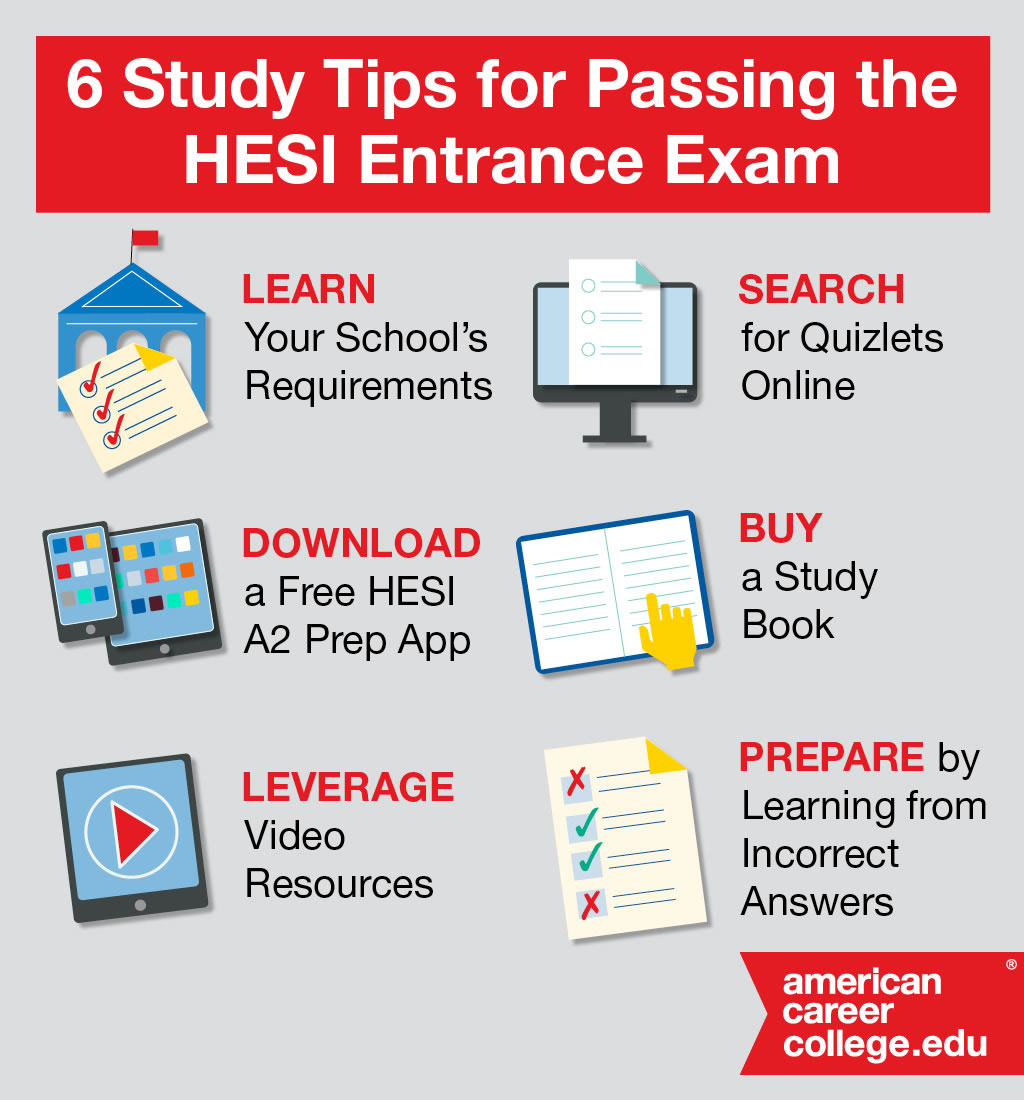 1. Learn Your School's Requirements
Pro tip: Not all HESI A2 exams are alike. Each nursing program administers their own version of the test, tailored to assess your performance according to that school's admissions priorities. While some schools will defer to the exam in full, others will pick and choose the content they'll include to evaluate candidates.
Doing your research and learning what to expect on exam day will help you focus your preparation. You'll be able to narrow down which subjects to spend your study time on, and really drill the material.
Once you've decided where you're going to apply, contact the admissions office of each school to get more information on their testing topics. Then you can choose your study materials according to those subjects and make an action plan.
2. Download a Free HESI A2 Prep App
Or two, or three! There are loads of helpful, free apps you can download that can help you prep and build confidence for testing day. All you need to do is search "A2 HESI" in the app store on your phone or computer. These apps are turnkey study resources designed specifically for aspiring nursing students prepping for the HESI, and an easy resource to tap into.
There are a lot of apps available, so to narrow down your options, we recommend you look for apps with high ratings. (These will typically sort to the top of the app store when you search.) Download more than one to get a variety. You might find one app that is extra helpful or easy to use, or you might want to rotate through multiple apps to help keep yourself on your toes.
3. Leverage Video Resources
Another essential Internet resource you should leverage for your test prep is video content. There are a number of great YouTubers sharing their expertise to help you get up to speed on the HESI A2 topics. Plus, incorporating video learning into your study habits is a great way to reap the benefits of multimedia, or "blended learning."
We highly recommend The Math Dude to brush up on math skills like algebra. Another great video resource is Nurse Shai who shares videos specifically tailored to the HESI A2 across subjects, from grammar to science. Both of these channels can be a tremendous help by delivering review material in a concise, cohesive, and even entertaining way.
4. Search for Quizlets Online
A quizlet is just what it sounds like: a mini quiz for a quick test of your knowledge in a specific area. Trying to test yourself on everything at once can be overwhelming, particularly if you're just starting to prepare for the HESI entrance exam. We love quizlets because they help you self-test in increments.
To find quizlets easily online, just open your browser and do a quick search. Here are some terms to type into your search bar:
"A2 HESI math quizlets"
"A2 HESI English quizlets"
"A2 HESI science quizlets"
Look to the top three or four search results for the best matches, and then get to testing!
5. Buy a Study Book
There are tons of digital resources available, but consider investing in a physical book to supplement your A2 HESI prep. You might find this particularly helpful if you plan to take the A2 HESI in person, as opposed to online.
Even if you're going to log in to test, working through a study book with actual pages can help you learn. Research supports mixing up your media while studying in order to train your brain to recall the information in different circumstances, rather than relying on a single association.
There are many useful HESI A2 books available, but one of the most common titles is the HESI Admission Assessment Exam Review. If you choose this study guide, purchase the 3rd edition or later for more up-to-date test prep material.
6. Learn from Incorrect Answers
Any time you complete a practice test, quizlet, or app exercise, don't just look at your score. Take the time to review the answers you got wrong. Make friends with them! There's actual science behind this: When your brain struggles to recall information, it trains itself to remember that same information better the next time. So in a way, failing your practice tests in the early stages of study can be a good thing.
Treat every wrong answer not as a failure, but a gift — a hand-delivered, specific instruction of what to do next. Did you only get half the answers right? Great! Now you've narrowed down what you need to focus on by half. Each time you do this, you'll whittle away at the material you're shakier on, and minimize the knowledge gaps you have left to tackle.
Quality Nursing Education at American Career College
Now that you know how to prepare for the HESI A2, it's time to choose the right school to prepare you for your career in nursing. At American Career College, we offer our students hands-on experience in technologically equipped facilities. With more than 45 years training the next generation of healthcare professionals and a dedicated faculty of seasoned educators and practitioners, ACC provides a forward-thinking approach to nursing education.
Learn about our Vocational Nursing and our Associated Degree in Nursing programs.