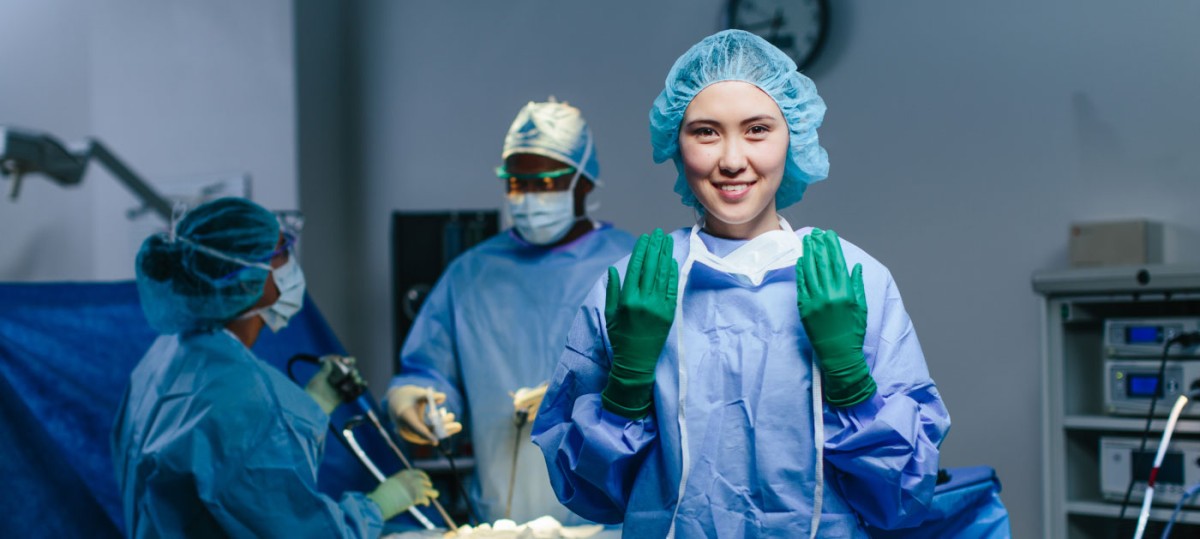 If you're interested in a career where you can help save lives, improve patients' quality of life and even assist in bringing life into this world, you may want to consider becoming a surgical technologist.
Surgical techs play an integral role in the operating room. They keep operating rooms sanitized and properly equipped, prepare patients for surgery, deliver post-op care and serve as surgeons' and perioperative nurses' right hand.
Surgical technologists play a vital role in preventing infection, keeping surgeries moving smoothly and optimizing the patient experience.
To help you better understand this role and what it entails, we're providing a glimpse into what a surgical tech does on a day-to-day basis.
What Is a Typical Day Like for a Surgical Tech?
Surgical techs have a wide range of critical duties that occur before, during and after operation as well as on an ongoing basis. Here's a breakdown of common surgical tech duties:
Common Surgical Technologist Duties
Pre-Op Duties

Get patients ready for surgery, which includes positioning them on the operating table and ensuring they are covered with sterile surgical drapes
Count sponges, needles and instruments that will be used during surgery
Wash and sterilize equipment, using germicides and sterilizers
Self-sanitize (scrubbing arms and hands) and help the surgical team put on masks, gloves and surgical clothing

Intra-Op Duties

Keep the operative field properly sterilized during surgical procedures
Provide technical assistance to the surgeons, periop nurses and/or anesthesiologists
Pass instruments and supplies to the surgeon and/or surgeon's assistant, hold retractors, cut sutures and complete other tasks that are requested by the surgeon

Post-Op Duties

Count sponges, needles and instruments after operation (to ensure nothing is accidentally left inside the patient)
Wash and sterilize equipment, using germicides and sterilizers

Additional Duties

Prepare, handle and dispose of biological specimens collected for laboratory analysis
Manage the inventory of surgical supplies and equipment and ensure they are in good working condition (e.g., lights, sterilizers, suction machines, diagnostic equipment, etc.)
Continually monitor the state of the operating room and respond to the needs of the surgical team and patients (such as by adjusting the position or settings of medical equipment)
Source: California Employment Development Department, Occupational Profile, "Surgical Technologists in California"
Surgical technologists also need to have a certain level of tech literacy, including basic computer skills, familiarity with common office software (i.e., email, spreadsheets, word processing) and familiarity with medical software (i.e., electronic medical record software, patient scheduling software, etc.)
What types of tools and equipment do surgical techs use?
Some of the most common types of medical tools and equipment that are used on the job include:
Electrosurgical or electrocautery equipment
General surgical supply set accessories
Instrument tables for surgical or obstetrical delivery use
Medical staplers for internal use
Steam autoclaves or sterilizers
Surgical drains or drain sets
Surgical lasers
Surgical pneumatic/battery/electric saws/drills/pin drivers
Surgical power equipment sets
Surgical suction machine or vacuum extractor/ultrasonic surgical aspirator
More information about this equipment and additional examples can be found on the Occupational Information Network (O*NET) website.
Where do surgical techs work?
Here is a list of common work environments for surgical technologists, broken down by the percentage of employment for surgical techs in California:
General medical and surgical hospitals – 55.1%
Offices of physicians – 16.6%
Outpatient care centers – 14.2%
Dental offices – 7.7%
Employment services (i.e., staffing agencies) – 3.8%
Specialty healthcare services (except psychiatric) – 1.3
How to Become a Surgical Tech
Now that you have an idea of what is involved in a surgical technologist's day-to-day activities, let's explore what it takes to become a surgical tech. If you're considering a career in surgical technology, check out these career path FAQs.
What are the Requirements to Become a Surgical Technologist?
Employees are usually looking for surgical techs to have completed a post-secondary training program.
The state of California does not require you to pass the national Certified Surgical Technologist (CST) examination — administered by the National Board of Surgical Technology and Surgical Assisting (NBSTSA) — in order to work as a surgical tech in California. However, becoming certified can help prove the depth of knowledge in this field and serve as a differentiator to prospective employers. Some employers may even require certification.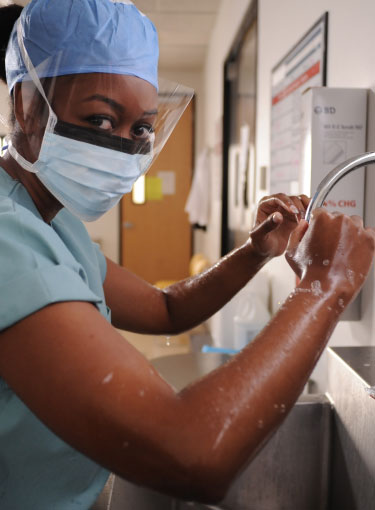 How do you become a certified surgical tech?
If you are interested in becoming a certified surgical technologist, make sure to enroll in a program that is accredited by the the Commission on Accreditation of Allied Health Education Programs (CAAHEP) and/or the Accrediting Bureau of Health Education Schools (ABHES), as this makes you eligible to sit for the CST exam.
Enrolling in a Surgical Technology Program
If you're in Southern California and you're interested in pursuing a career as a surgical technologist, you may want to consider enrolling in our program at American Career College.
Our Surgical Technology program allows you to earn your associate degree in as little as 20 months and is available as a blended program, meaning you'll complete some of your coursework online and the rest in person at one of our campuses. This program is available at our Los Angeles, Ontario and Orange County (Anaheim) campuses.
As a Surgical Technology student at ACC, you gain hands-on training as well as valuable real-world experience through more than 500 hours of clinicals.
Learn more about our Surgical Technology program and apply today!