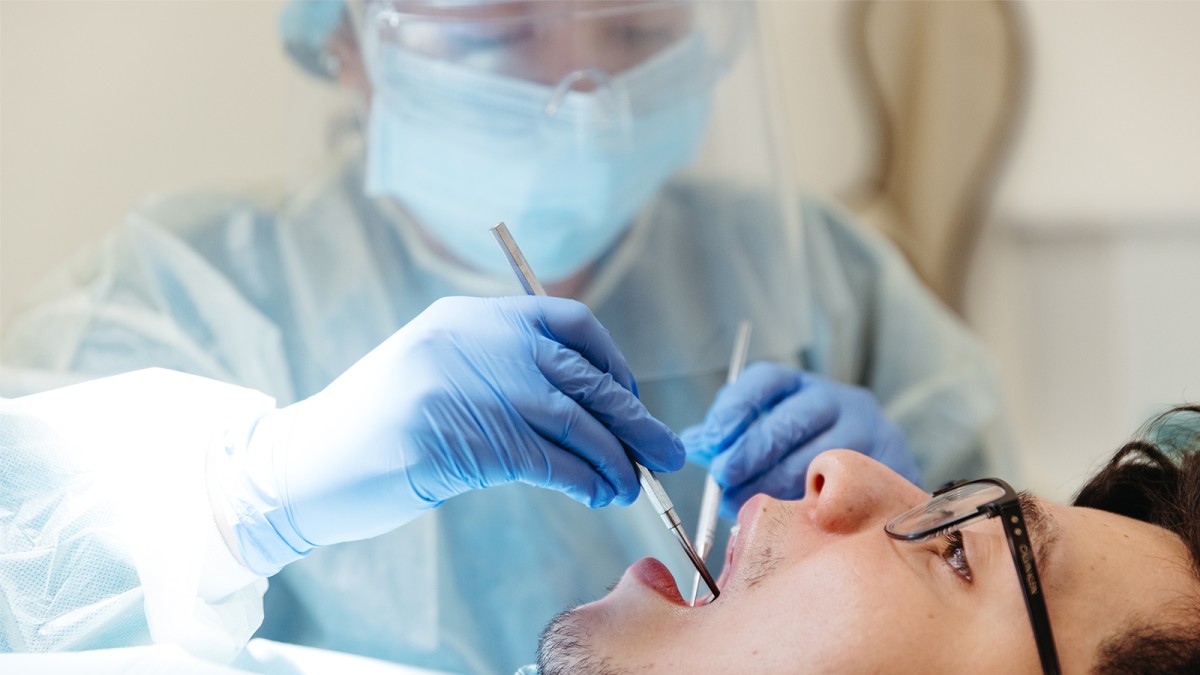 Within any dentist's office or dental clinic, you'll find dental assistants (DAs): versatile, skilled professionals who fill a key role in oral care. Most people associate dental assistants with the familiar face they see before the dentist—the person who assists the dentist while the patient is having a cavity filled or a crown placed.
And that's right! But there's more.
Dental assistants are present throughout a visit to the dentist's office, and there's also a lot they do behind the scenes. If you're thinking of becoming a dental assistant, you can look forward to satisfying, well-rounded work where you will collaborate with people, help the office run smoothly, and assist with actual dentistry.
In short: DAs are indispensable members of the team that create a positive and efficient experience for both patient and dentist.
If you're interested in exploring this career path, read through some of the most common questions about the role of a dental assistant.
Table of Contents
What Are the Job Duties of a Dental Assistant?
Where Do Dental Assistants Work?
What Kind of Education Do I Need to Become a Dental Assistant?
What Are the Different Types of Dental Assistant Roles?
About ACC's Dental Assisting Program
What Are the Job Duties of a Dental Assistant?
So, what does becoming a dental assistant mean in day-to-day terms? A typical workday for a DA will vary depending on your employer, but you can usually expect to stay busy and work closely with both the people and processes of dentistry.
Most dental assistant jobs have predictable hours (there may be exceptions for DAs who work in 24-hour or emergency dental clinics) and a well-defined role in the office. And because dentistry is such a team-centric field of healthcare, you'll be engaged hand-in-glove with other members of the office, from maintenance workers to hygienists to—of course—the dentists themselves.
And because this is a position that assists both in terms of helping the office run smoothly and directly assisting in patient procedures, the job is usually a combination of front and back office. So, let's take a look at these two very different (but equally important!) parts of the job and what the actual job duties are.
Dental Assistant Clinical Duties
Dental assistants are typically in the room with the dentist during an exam or procedure, assisting with chairside duties. The clinical duties of a DA may include:
Sterilizing and setting up dental instruments and equipment
Exposing diagnostic dental x-rays
Taking and recording relevant patient information and vital signs
Placing and removing dressings
Taking dental impressions and fabricating temporary restorations like crowns
Assisting with certain procedures like fillings and crowns
Post-procedure cleanup and exam room reset
Dental Assistant Administrative Duties
A DA's job duties often also include administrative and clerical tasks. In some cases, you'll share this role with a receptionist or office assistant, but depending on where you work, your day might involve:
Filing, maintaining, and updating patient records
Monitoring and maintaining dental supplies and inventory
Overseeing patient arrival and check-in
Billing and coding information for insurance purposes
Scheduling appointments
Where Do Dental Assistants Work?
The vast majority of dental assistants work in dental offices, though they can also work in other settings such as physicians' offices and outpatient care centers. In all settings, a DA works under the supervision of a dentist, a dental hygienist, or both.
Some dental assistants may choose to work within a specific area within the field of dentistry. Some dental specialties or sectors that employ dental assistants include:
Pediatric dentistry
Oral surgery
Endodontics
Public health dentistry
Oral pathology
Periodontics
What Are the Different Types of Dental Assistant Roles?
In addition to natural career growth that can come with experience, many DAs choose to pursue additional education or certification to take on more complex responsibilities or open up new employment opportunities. Certifications, educational requirements, and specific tasks are regulated at the state level, but four of the most common types of dental assistants are:
For more information, read our post on the different types of dental assistants.
What Kind of Education Do I Need to Become a Dental Assistant?
Do you need to go to dental assistant school? That depends. Each of the different types of DAs listed above all have different educational and licensure requirements. Most of these requirements are regulated at the state level, so you'll need to do your research before you enroll in a dental assistant program, but we've provided an overview of the California requirements here:
Dental assistants (DAs) must complete:
An approved 2-hour course on the California Dental Practice Act
An 8-hour infection control course approved by the California Board
Basic Life Support (BLS) training in an American Heart Association (AHA) or American Red Cross-approved course
Registered Dental Assistants (RDAs) must complete:
All of the requirements listed above
Graduation from a state-approved RDA training program (diploma) or 15 months of work experience as a dental assistant (or a combination of both)
Complete board-approved radiation safety and coronal polishing courses
Apply for RDA licensure through the Dental Board of California
Pass the combined RDA General and Law and Ethics exam
After you complete the requirements to become an RDA, you'll be able to apply for dental assisting jobs that require more advanced and complex tasks that only licensed DAs are permitted to perform.
Pursue Your Goals with ACC's Dental Assisting Program!
Ready to take the next step toward your career as a dental assistant? Get a leg up in American Career College's Dental Assisting program, which is a state-approved RDA program. In our blended program, you will spend two days a week in class and complete the rest of your studies online. Plus, you can earn your dental assisting diploma in as little as 10 months!
Our Dental Assisting program is available at our three Southern California campuses, which are located in Los Angeles, Ontario, and Orange County (Anaheim). Learn more about ACC's Dental Assisting program and apply today!