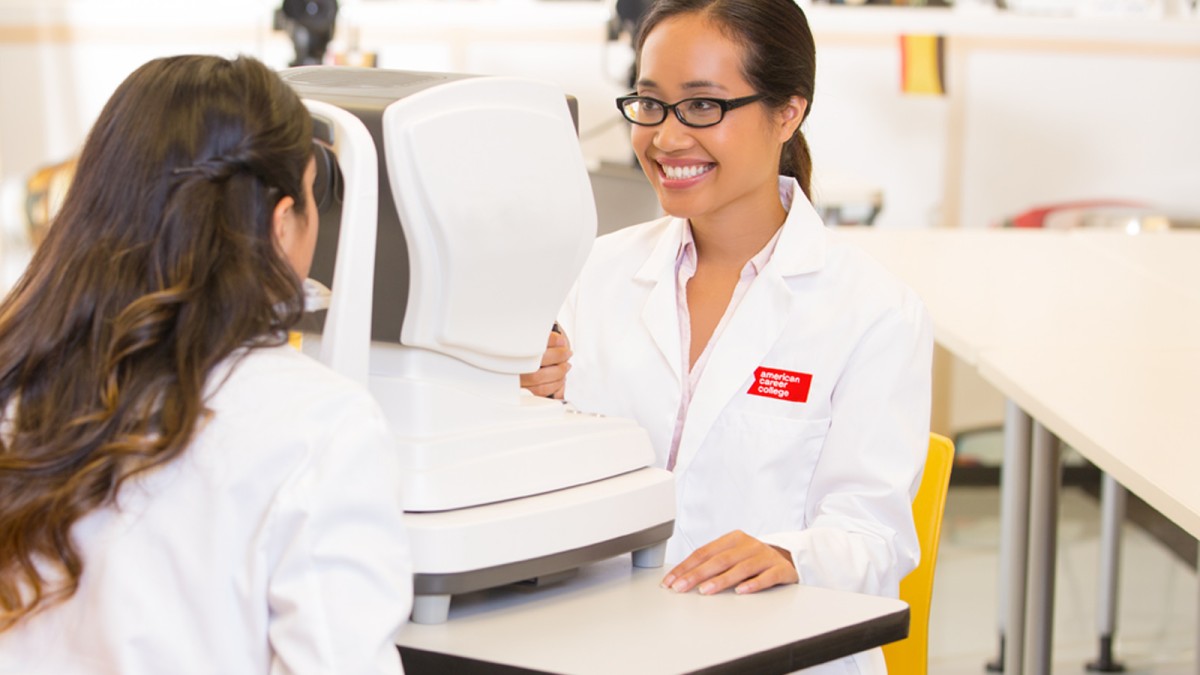 With the aging of the Baby Boomer generation, the 65-and-over population is continually growing — and that equates to a growing need for eye care services, especially on the medical side!
According to one industry expert's market analysis, the 65+ age group is expected to grow from 15% of the U.S. population in 2016 to 21% in 2030 and 23% by 2060.
As a result, Richard Edlow, O.D., Eyeconomist author and industry lecturer, projects that the demand for medical eye exams will grow by over 25% from 2020 to 2030, resulting in about 15 million more medical eye exams in 2030 compared to 2020.
So, what does that mean for eye care professionals? It means there is a substantial need for the delivery of optical services!
There are many different types of optical jobs, and the right one for you will depend on how much education and training you're willing to complete as well as how you want to interact with clients or patients.
To provide some insight into some of the most popular optical careers, we'll explore three roles:
Optician vs. Optometrist vs. Ophthalmologist
What is an Optician?
An optician (also known as an optical technician) is a professional who designs, measures, fits and adjusts eyeglass frames and contact lenses for clients based on their written optical prescriptions. This is the professional whom a client may interact with at the beginning or end of their optometry appointment and when picking up their glasses or contacts.
Common duties of an optician in California include:
Using special devices to measure clients' bridge and eye size, temple length, vertex distance, pupillary distance and the optical centers of their eyes
Helping clients pick out frames and lenses based on their facial and eye measurements, optical prescriptions and personal preferences
Preparing work orders for the optical lab with instructions for grinding lenses and fabricating eyeglasses
Adjusting glasses to fit clients, using pliers and hands
Fabricating lenses to meet prescription specifications
Educating clients on how to properly wear and care for their glasses and contacts
Keeping records of client prescriptions, work orders and payments
Opticians who work as optometric assistants for optometrists or ophthalmologists do not need to be licensed by the California State Board of Optometry. However, anyone looking to perform contact lens fittings and adjustments in retail stores (not under an optometrist or ophthalmologist) in California must obtain a spectacle lens and/or contact lens dispensing license with the state board. Additionally, anyone looking to open an optician dispensing business must obtain a registered dispensing optician license.
Opticians often work in optometry or ophthalmology practices or in retail vision clinics or stores. Education and training are typically obtained through optician school, which may take anywhere from one to two years. American Career College offers an Optical Technician program that can be completed in as little as 9 months.
What is an Optometrist?
Optometrists, or doctors of optometry (OD), are primary eye healthcare providers recognized as physicians under Medicare. These are the eyecare professionals that clients typically see when they need glasses or contact prescriptions or they want to be screened for eye disorders/ diseases.
Optometrist duties include the following:
Performing vision exams and eye health screenings
Diagnosing and treating vision problems (such as nearsightedness, farsightedness, stigmatism, etc.) as well as eye disorders and diseases (astigmatism, strabismus, glaucoma, etc.)
Writing prescriptions for eyeglasses and contact lenses, and prescribing additional treatments such as medications, vision therapy and low-vision aids
Counseling patients on treatment options that best align with their visual needs based on their jobs, hobbies and lifestyles
To become an optometrist, you must complete a bachelor's degree and then graduate from an accredited school of optometry, resulting in about eight years of higher education (medical school is not required). While optometrists are not required to complete a residency program prior to starting practice, optometry residency programs have become more popular in recent years, serving as a sign of increased demand for care in specialty areas.
California is the state with the highest number of employed optometrists (7,750) and the third-highest in terms of job concentration (0.44 employment per 1,000 jobs), according to the U.S. Bureau of Labor Statistics.
Optometrists in California must be licensed by the state.
What is an Ophthalmologist?
Ophthalmologists are medical or osteopathic doctors who specialize in eye health and vision care and who have advanced medical and surgical training. This is the type of doctor a patient might see if they have more serious vision/eye health complications or they need a surgical procedure done.
In contrast to optometrists, ophthalmologists are able to perform eye surgery, such as cataract surgery or strabismus surgery. Ophthalmologists can also perform vision and eye health tests as well as prescribe and fit glasses and contacts similar to optometrists. Because of their advanced education and training, ophthalmologists can diagnose and treat a broader range of eye conditions. Some also conduct research in academic settings.
If you choose to become an ophthalmologist, you may decide to specialize in a certain type of eye surgery or eye care. A few common ophthalmology subspecialties include:
Glaucoma
Retina
Cornea
Pediatrics
Neurology
Oculo-Plastic Surgery
Ophthalmologists typically must have a bachelor's degree, attend medical school and complete surgical training, which amounts to about 12 to 14 years of education and training.
ACC's Optical Technician Program in Southern California
If you reside in Southern California and are interested in pursuing an eye care role as an optician, you may want to consider enrolling in American Career College's Optical Technician program. The program is taught in a blended format, requiring only two days per week of in-class instruction with the remaining three days being completed online.
The Optical Technician program is available at ACC's Los Angeles and Ontario campuses. Learn more about how to start your optical technician training and apply today!