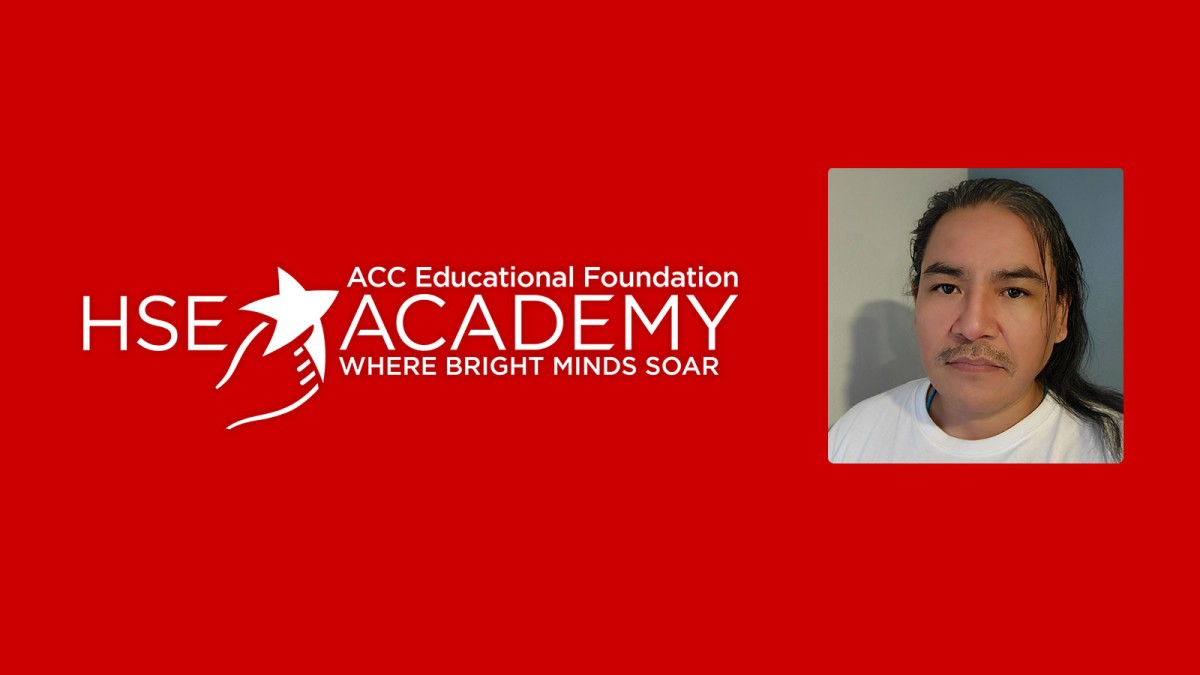 Daryll Eaglebears Davis, of the Diné nation, shares his experience successfully earning his high school certificate through the American Career College Educational Foundation's HSE Academy—and following in his family's path towards advancing their education.
Daryll, 45, recently completed his classes at the academy and passed his high school equivalency (HSE) test to help overcome professional advancement roadblocks he experienced in his career. His parents, both from the Diné nation, as well, were very supportive of his desire to learn and further his education. He had watched his parents and siblings enrich their lives through earning various degrees, and decided it was finally time for him to focus on his own education.
"I had to walk away from a career I loved in aerospace aircraft maintenance — all because I didn't have a high school diploma," he said. "I was really good at it and thought my talent alone would help me get to that next step. But it was a hurdle I couldn't overcome without my GED."
Finding the right educational program was a challenge at first, but Daryll eventually came across the HSE Academy and liked how unique it looked, as well as the diversity and age range of the student population. Daryll was surprised at how much fun he had learning and appreciated the collegial environment the HSE Academy provided.
"When I needed help, someone was always there without hesitation," he said. "It felt good and was such a positive experience. Education is a great way to get you to a better place, and earning this certificate just expands my life."
Daryll's instructors and tutors were impressed with the focus and dedication he displayed throughout his time at the HSE Academy.
"Daryll exemplified perseverance in this program and didn't give up on himself," said Josh Bonilla, one of his instructors. "In achieving his goals, he has also created a bridge for other members of his indigenous community to achieve their HSE."
Daryll's father taught him survival skills, as well as their nation's traditions and customs, and strongly encouraged Daryll to pursue his education—something that has stuck with him.
"My family just assumed I would pursue my education, and it feels good to know I finally did this," he said. "My father really wanted me to shine and use education to get there. Now I can do what I really want in life. It's the best gift you can give yourself—something to open doors."
In addition to providing a great education to prepare him for the HSE exam, Daryll also likes the HSE Academy's connection to healthcare through ACC/WCU and helping others through community involvement—including WCU's partnership with the Riverside-San Bernardino County Indian Health Inc. As someone who has had meaningful experiences with Native American medicine men and seen their ability to heal, caring for others is important to him and his nation's people. It's brought him full circle in securing an educational achievement from an organization dedicated to helping those in need.
"This has been such a great experience for me, and I'm grateful to have attended classes at an organization so dedicated to serving others in the community no matter where they are in life's journey," he said. "I can't wait to continue pursuing my career and seeing where it takes me."
Daryll resides in Eastvale, California, not far from the Ontario HSE Academy classes he completed, but was pleased to share that he recently started working out of state—returning to his dream job of working on aircraft at Spirit AeroSystems.