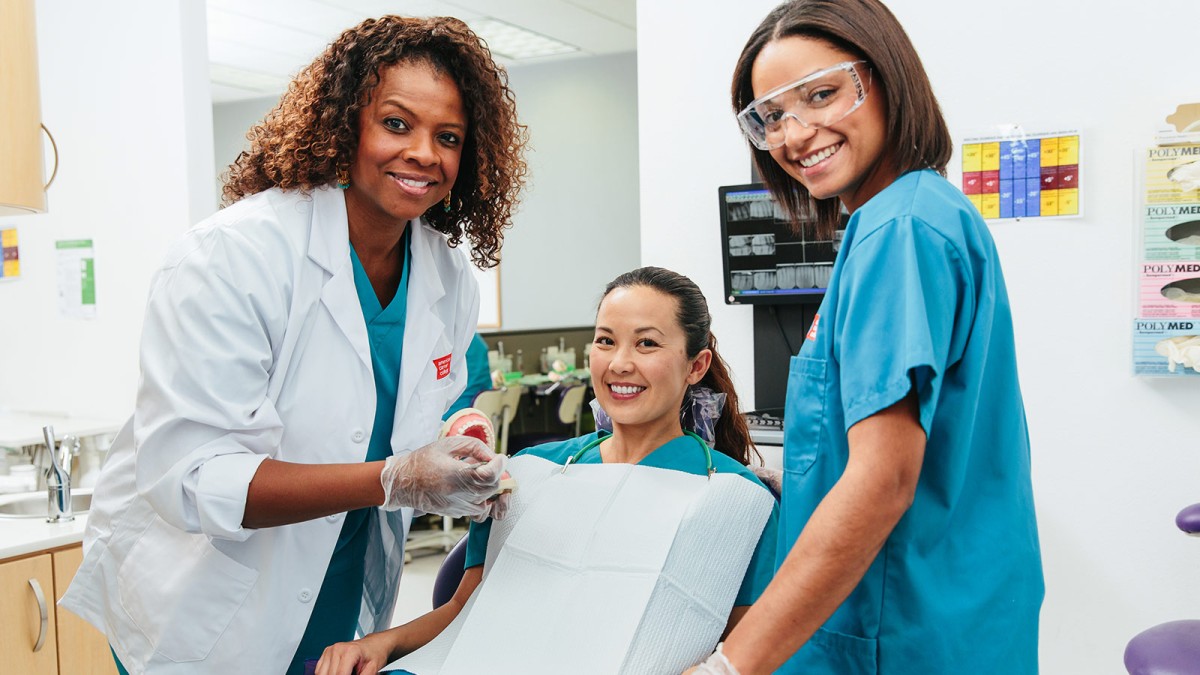 If you're considering becoming a dental assistant but you aren't sure where to start, a good first step is understanding the different types of dental assistants and what their jobs entail.
One of the most common questions aspiring dental assistants ask is, "What's the difference between a registered dental assistant (RDA) and a certified dental assistant (CDA)?" In addition to RDAs and CDAs, there are Registered Dental Assistants in Extended Functions (RDAEF) and, in some states, unlicensed dental assistants.
In this post, we'll explore these questions and break down what you can expect from a career as a dental assistant, how to become registered or certified, and what that means for your professional path.
Table of Contents
What Can You Do as a Dental Assistant?
What Can You Do as a Registered or Certified Dental Assistant?
What Are the Qualifications of an Entry-Level Dental Assistant?
DA vs. RDA vs. CDA: What Are the Differences?
The differences between a dental assistant (DA), registered dental assistant (RDA), and certified dental assistant (CDA) are education, licensing, and particular job function. Here's an overview and a side-by-side comparison.
Dental Assistant (DA): This level of dental assistant has no formal training but may work in a dental practice under the supervision of the dentist. A DA can perform a limited set of tasks as regulated by the state.
Registered Dental Assistant (RDA): An RDA trains through a state-approved RDA program, completes a required number of months of work experience, or a combination of the two. RDAs in California must pass practical and written tests as a requirement of licensure, and they are permitted to perform more complex tasks.
Certified Dental Assistant (CDA): A CDA performs many of the same job duties as an RDA but has obtained national certification. A CDA may not be a requirement of state licensure, depending on your location.
DA vs. RDA vs. CDA: A Side-by-Side Snapshot
Now we'll explore what these differences mean, in practical terms, on the job.
What Can You Do as a Dental Assistant?
It's possible to work as a DA without completing an RDA program or registering as a dental assistant, but you'll be more limited in which tasks you're permitted to perform. Some tasks, however, may require specific training or examinations. As an unregistered dental assistant, your job duties will often include:
Non-oral dental assistance tasks such as greeting patients, scheduling appointments, and handling billing
Taking dental x-rays (requires a board-approved course and/or examination)
Taking intra-oral measurements for orthodontics
Applying allowed topical agents, such as fluoride and non-caustics
Taking dental impressions
Removing dressings after certain dental procedures
Removing sutures
Placing and removing rubber dams and matrices
Positioning and removing orthodontic separators
What Can You Do as a Registered or Certified Dental Assistant?
A registered or certified dental assistant has trained in a dental assistant program and is qualified and registered to perform more complex duties than an unlicensed dental assistant.
RDAs and CDAs may perform all of the tasks listed above but have also been trained and licensed for the following under licensed dentist supervision:
Instrumental or floss removal of residual and excess cement from surfaces above the gumline
Oral cavity mouth-mirror examinations to identify and record previous dental work, missing teeth, and lesions
Positioning and removal of sedative-treated dressings
Collection of endodontic culture samples
Positioning of orthodontic separators
Sizing of bands and crowns
Construction, cementing, and removal of temporary crowns
Crown polishing (upon completion of board-certified course)
Application and activation of bleaching agents
Drying open canals with absorbent points
What Are the Qualifications of an Entry-Level Dental Assistant?
The requirements to be a dental assistant in California at the RDA level start with enrolling in a board-approved RDA training program, where you'll get knowledge and hands-on learning to enter the dentistry field with confidence. Once you earn your diploma, you need to meet the requirements of the Dental Board of California:
Take approved coronal polishing and radiation safety courses
Pass a Basic Life Support course approved by the American Heart Association (AHA)
Apply for your RDA license through the Dental Board of California
Pass the California RDA General Law and Ethics exam
Once you complete the mandated requirements and receive your registration, you'll be able to apply for work as an RDA and perform the more advanced tasks that licensure allows.
What is an RDAEF?
A Registered Dental Assistant in Extended Functions (RDAEF) is an RDA who has completed additional dental assistant requirements in California in order to be permitted extended duties, which can include:
Patterning for endodontic castings
Applying sealants to fissures
Applying etchants for bonding
Taking impressions for more complex dental devices and processes
Take the Next Step with ACC's Dental Assisting Program!
At American Career College in California, our Dental Assisting program provides students with the comprehensive coursework and hands-on training they need to embark on this rewarding career path. Because we have a state-approved RDA program, we provide our students with the education and training needed to prepare for the RDA licensure exam, if they choose to pursue licensure upon graduation. Our training also prepares students to pursue their California Radiation Safety Certificate (limited to dental x-ray).
Here's what else you need to know about our program…
How long is the Dental Assisting program at ACC?
Our dental assistant training program is designed to be completed in 10 months through an accelerated course of study.
Where is ACC's Dental Assisting program?
Our Dental Assisting program is available at any of our three Southern California campuses in Los Angeles, Ontario, or Orange County (Anaheim). Students attend on-campus instruction two days per week and complete the rest of their studies online.
Will ACC help me with career services and development?
We pride ourselves on providing our students with career support before and after graduation. All ACC students enjoy lifetime access to our Career Services center.
Are financial aid options available?
Financial aid and scholarships are available to students who qualify.
With more than 45 years at the forefront of healthcare education, ACC offers dental assistant students hands-on learning in facilities equipped with up-to-date technology. Learn more about our Dental Assisting program and apply today!