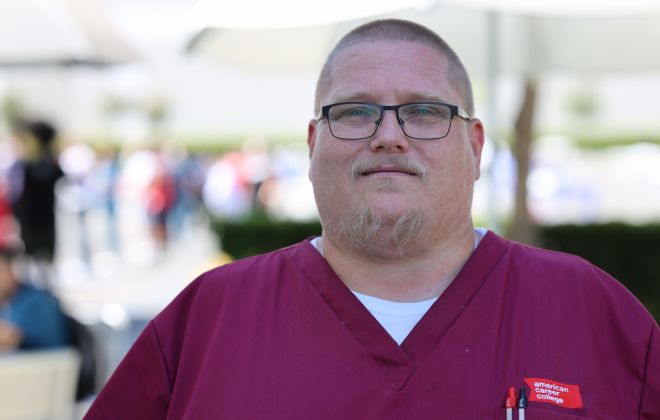 Having worked in construction and roofing for years, Bryan Quarry understands what it's like to build from the ground up. 
More than 20 years ago, Bryan became a stay-at-home dad for his two children after selling his roofing company. Now with his kids in high school, Bryan said he was ready for a new challenge and a new career and decided to enroll in the medical assistant program at American Career College-Ontario. 
When it came to deciding on schools, Bryan said he was lucky and followed his wife's blueprint for success. She had attended ACC's medical billing and coding program 18 years prior, so Bryan didn't have to search long for the right place to re-start his education. 
"I was looking at different schools, and we already knew ACC. We came here, and everything has been good since," he said. "It's just so inviting. It's a really good environment to be in." 
Returning to school after such a gap was a bit of a mental and physical challenge at first, he said. Mentally, he had to accept starting at the bottom of the ladder. Physically, it was a change of pace going from stay-at-home dad to full-time student. 
"I was a little bit of a learning curve — to learn how to learn again — but I'm in my groove now," he said. "It's a good challenge. I'm enjoying every step of the moment." 
Besides going to school full time, Bryan is also a program ambassador at ACC. He participates in event planning and welcoming new students. Recent students can feel overwhelmed, he said, and ambassadors are there to help.   
"It gives the new students someone to ask questions to. That's also what keeps me excited, the new students that come in. I love teaching and showing," he said. 
As a medical assistant student, Bryan said he is learning about the other programs at ACC and the other specialties available to him in healthcare, giving him options later when deciding what medical field to enter. 
"Coming in as an MA, you get to learn all the other things like respiratory technician, all the different kinds of medical fields. This is going to get me the foot in the door to see where I want to go," he said. "At any time, you can change your life. I've changed my life. Now I'm here, and it's continuing to change."