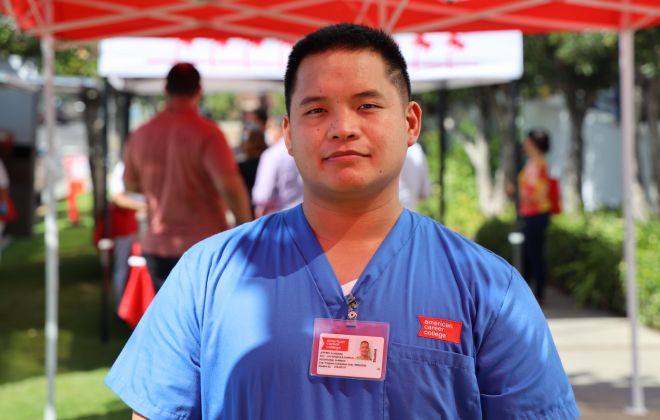 A lot of people might take a break after serving eight years in the US Marine Corps, but just days after his military retirement Jeffrey Alindada headed straight to American Career College-Los Angeles and enrolled in school. 
A native of the Philippines, Jeffrey has family in the healthcare field, and he knew he wanted to help people. 
"I worked at a retirement facility for a while and it was so eye-opening," Jeffrey shared. "I decided I needed to get my nursing license and be there for them." 
Jeffrey's sister graduated from ACC-Los Angeles four years ago and encouraged him to enroll. Now a student in ACC-LA's vocational nursing program, Jeffrey is excited about his future. 
"I wanted the accelerated program because I wanted to get in, get it done, and get started with my career," Jeffrey said.
Jeffrey's experience and family history inspired him to be a nurse, but his determination and empathy is what drives him to succeed.
"In order to be successful, you can't be selfish, you have to help people," he said. "Regardless of what I'm doing, I stop and help other people and I think that's what's missing from our communities throughout the world — caring for each other."
Advising others to not quit and remain focused on helping people, Jeffrey says he knows what type of nurse he is going to be.
"They need us in the field," he added, "and I want to be the nurse my coworkers depend on."