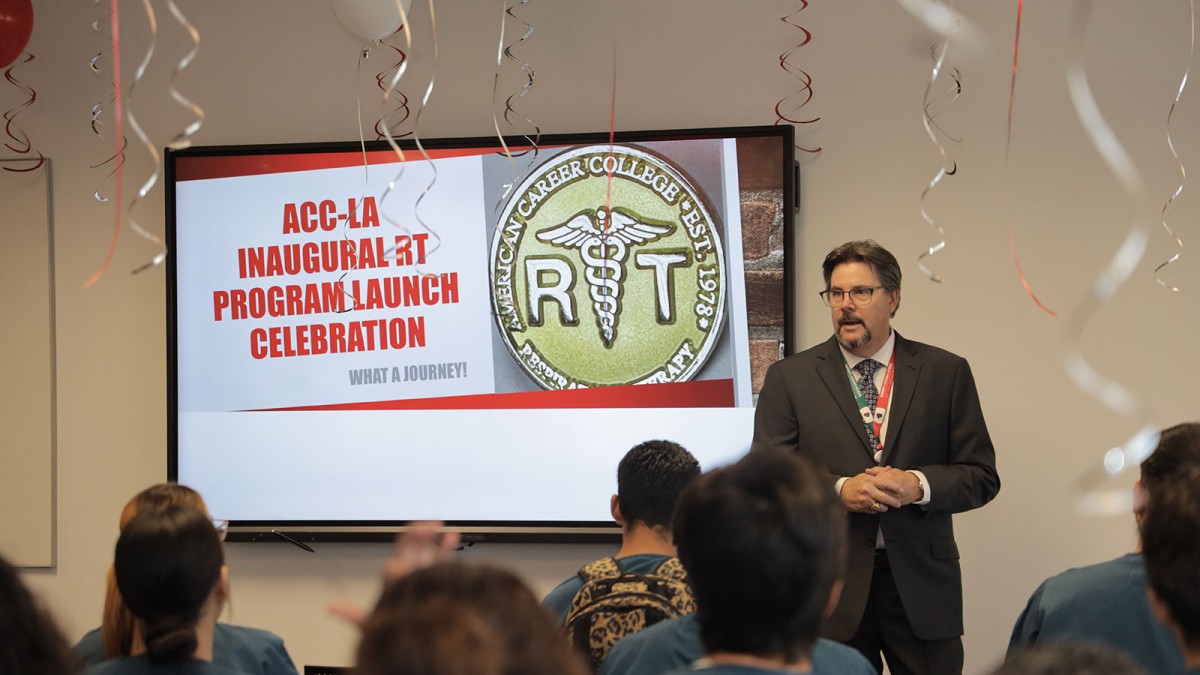 American Career College-Los Angeles held a grand opening ceremony for its new respiratory therapy program this September and celebrated its inaugural cohort.
ACC-Los Angeles RT program director Jeffrey Rutherford said it took over a year to get the new lab up and running for the students to use.
"It's amazing to get to this point, and there were a lot of people involved in that," Rutherford said. "I'm just excited for the students to jump in and work to become therapists."
Students, faculty, and administration cheered as ACC-Los Angeles education director Jamison Wallington cut the red and white ribbons draped across the doorway, officially welcoming the new program to its remodeled lab space.
The respiratory therapy lab serves a dual purpose as a three-bay intensive care unit, catering to adult ICU, PICU, and NICU settings and functioning as a modified classroom for up to 12 students. Each bay is equipped with fully functional patient headwalls, providing medical gas and suction capabilities. The bays also house essential equipment for intubating and bronchoscopy procedures, along with a diverse range of ventilators for hands-on learning.
The lab is equipped with ultra-high fidelity patient simulators. The adult simulator incorporates artificial intelligence programming, allowing students to engage in simulated patient/practitioner conversations. These conversations are tailored to the specific information and scenarios input by instructors, enhancing the educational experience.
"We have a myriad of incredible equipment to provide the very best hands-on experience for our students," Rutherford said. "ACC has really created an exceptional learning environment for our future respiratory care practitioners."
Rutherford acknowledged the help of ACC administration and leadership, thanking ACC Co-President Susan Pailet, plus ACC-LA executive director Lani Townsend and Wallington for their backing.
"We couldn't have launched it without their support," he said.