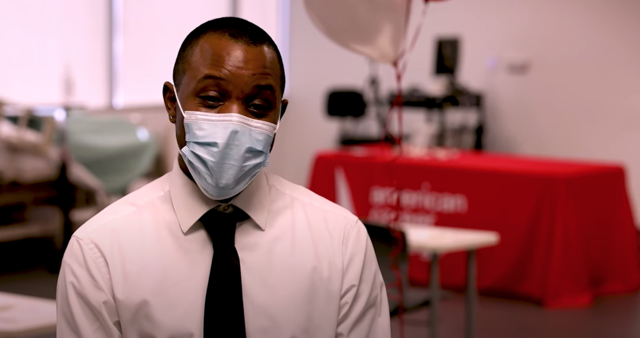 Shawn Butler recently graduated from American Career College-Los Angeles with his associate degree in nursing. He has always known what he wanted to do but his journey to becoming a registered nurse was not a straight path.
"Today is a celebration to the fullest. It's been a long, long journey. Nursing school is already hard so to have COVID on top of it was a double challenge," he said. "I'm here to celebrate myself and my colleagues"
At 19, Butler began his career in healthcare as a home health worker. Caring for patients in such a personal setting gave him a strong foundation for his journey to becoming a registered nurse.
"I knew what I wanted to do straight out of high school, I just took a different path to get there," he said. "I started as a caregiver and I must say that that strengthened my career."
As he continued in his journey, Butler became a licensed vocational nurse.  In his 8 years as an LVN, he learned important skills like communication and patient education. He also gained a valuable introduction to the role of a nurse in a hospital environment.
"Being an acute care LVN opened the door for me to see exactly what an RN does on the job," he said. "I saw the way they delegate, supervise, multitask and time manage. It helped me decide to go ahead and take that step in and apply."
When Butler began the ADN program at ACC-Los Angeles, he continued work in the hospital.
"I work three days a week so if I wasn't in clinical or in the classroom, I was able to apply whatever it was that I was learning at work," he said.
His experience definitely helped him not only navigate school but the COVID-19 pandemic.
"The biggest challenge during this COVID crisis has been being able to step outside of my own feelings and my own emotions and have a business mindset of I'm going into work today, I have five patients, let's make the best of it."
Reflecting on his journey at ACC-LA, Butler was thankful for his cohort and the support they gave each other during a tough program and unprecedented year. 
"My cohort is one of the most resilient cohorts I've ever know. We endured a lot. We were successful," he said. "It was really tough but I commend all of us for actually getting through it."
Butler wants anyone looking to be a nurse to know that with enough perseverance and hard work, they can get through it.